Have you tried to buy Facebook ads profitably?
It's not easy.
I've spent about $30,000 over the past 7 years on various campaigns without a huge amount of success.
That is until last month.
During November I was able to take a new test campaign and not only get it profitable, but also scale up the volume dramatically.
By the end of the month I was able to spend over $123,000 profitably.
So what was different about this campaign compared to others that I'd run earlier that had failed?
On the surface, the answer seems obvious as it's the answer most of the time – Targeting and Creative.
On the surface, the answer seems obvious – Targeting and Creative.

However, the devil is always in the details so I thought I'd share with you how I did it so you can do something similar in your own markets.
Targeting
Facebook has always had some unique and powerful targeting options. However, about this time last year they released an amazing feature called "Custom Audiences".
This was the first layer of goodness that they added into the largely unknown "Power Editor".
(You can find the power editor in the left hand menu within the Facebook ads manager).
It essentially meant that you could upload a custom list of people and advertise directly to those guys.
For example, you could upload your email list and you'd be able to advertise directly to these people who've already shown interest in your product.
(Note: Facebook encrypts your list on the way up so there is no way they can read it directly).
You could even negative match another list (e.g. customers) so that the ads wouldn't be shown to people who have already purchased. Or perhaps you could show customers a different set of ads (e.g. come back and use this coupon code).
All extremely powerful stuff in the hands of the creative.
I've used this method to promote liking our Facebook page to both a prospect and customer list with some reasonable success.
You can also take it to the next level by creating a custom audience based on how people use your site. So for example, you can add Facebook conversion code to your "thank you" pages and it builds an audience automatically over time.
Obviously it won't have all your historic data, however, it saves you having to keep uploading fresh lists all the time to update your custom audience.
Now, this is obviously great stuff but there was a shortcoming of this approach. If your list was small, then your reach was proportionately small.
However, in March this year, Facebook announced a new game changing feature to solve this – "Lookalike audiences".
Here's how it works.
You create your custom audience as usual if you haven't already.
Then, you create a new custom audience called a "Lookalike Audience". This is exactly what it sounds like it would be.
Facebook takes that custom audience and then analyzes it to identify what those people "look like". In other words, what is the typical demographic, what stuff do they like, and how are they related to the seed custom audience group (e.g. are they within their friend network).
You have the option to either be very similar and have a smaller group, or spread your net wider to people who are a bit less similar.
So now you have a "Custom Lookalike Audience".
You can now take this audience and build out a campaign targeting those people directly. You can also overlay further targeting options (for example, 18+ or people who live in the USA) and still keep the normal level of focus that you require.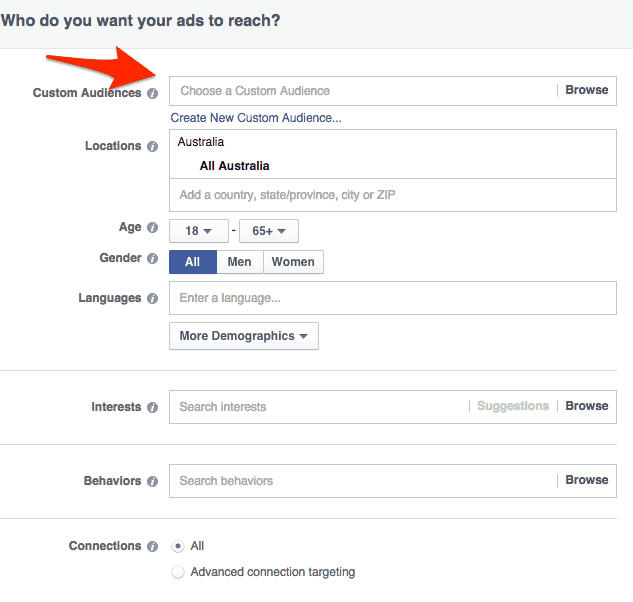 Now I was pretty skeptical at how well this would work. I'm a skeptic no more and with the results I've been getting am now a true believer.
Creative
So the other big change I made that had a dramatic impact was with the creative I used.
What's easy to forget is that nearly 80% of Facebook users are now on mobile. So you've got to completely change your approach to match. Forget about right hand side ads, you'll need to be focusing on ads that appear in people's feed.
Most importantly, if you're doing a direct response ad (so sending the traffic to buy something on another website) you'll need to make sure that the destination site is completely optimized for mobile.
There are a few tricks you need to look out for when creating a news feed ad.
My approach is fairly simple but has proven to be effective.
Here are the main takeaways:
Create the headline and text in exactly the same way you would write a PPC ad. This should be attention grabbing and have a compelling hook for pre-selling what you're trying to sell. Remember, this is just to get people engaged and interested enough to click on the link. Let the landing page close the sale. Just focus on getting the click.
The image part of the ad must not contain more than 20% of text. This is a bit of an art form, however, there are ways that you can get around this. For example, show a picture of a mobile phone with the mobile friendly version of the website you're sending to that has some easy to read headline and key bullets. This also has the benefit of demonstrating that you have a mobile friendly website as well as improving conversions post click because people have continuity from the ad creative to the landing page. Here are the guidelines from Facebook.
I've found that using the built in "Call to Action" buttons that Facebook provide work well. So if one of the defaults work for you, at least test them out.
Don't forget to click into the advanced options link to set your "Link Description".
One final thing…
If you end up driving a lot of clicks, you'll want to ensure that you don't burn out your campaign. Campaign burn out happens when you are showing too many ads to the same people. You'll want to look out that your frequency cap doesn't get too high. In other words, you'll want to make sure that a single person doesn't see your ad on average more than 5 times per 7 day period.
You'll also want to try to have quite a few image creative options and ad copy versions to test to see what resonates.
When you see your Click Through Rate going down, it's time to either switch out your creative.
Do you have any questions? Ask away below.