In my last article, How to Start an Ecommerce Store in Under 24 Hours, I briefly talked about how you can start your own ecommerce business.
If you decided to take action, this article is a follow up on how to combine email marketing with your online store to drive sales, with three emails that every business needs to send (regardless of whether you're in ecommerce or not).
1. Welcome email
A welcome email is the email a consumer immediately receives as soon as they sign up to a new website.
The welcome email is one of the most important emails you'll ever send. On average, it has a 50% open rate – the highest open rate of any email.
With such high open rates, the welcome email is the perfect email to use to build a relationship with your customers.

There are two ways you can tailor your welcome email. The first is to educate the subscriber about who you are and what you do.

This welcome email from Red Wing Shoes does just that by telling prospects what they should expect in the coming days and showing a video of customers who wear their products on a daily basis:

The goal of this email is to build a relationship between Red Wing Shoes and the subscriber. There's no sale pitch or voucher; it's purely informational, letting the prospect know what the business stands for.
The second approach is to provide subscribers with a voucher they can use toward their first order.

That's what temporary tattoo company Tattly do. They give all new customers a 20%-off voucher to use toward their first order:
If you're drop shipping, I prefer to go with the voucher option as your re-order rate is going to be very low.
The average lifetime of a drop shipping store is usually only a few months because others will eventually sell your products in their store and saturate the market.
If you're selling a product or service and have a long-term strategy, then I'd advise going down the branding route with your welcome email to ensure customers stay with you for longer.
2. The cross-sell or upsell
A cross-sell gets a customer to spend more money at your store by buying a product that somehow relates to what they have already bought.

For example, if you've ever bought a laptop at a store, the sales assistant will ask if you'd like to purchase a mouse or carry case. These are cross-sells that will increase the order value.
An upsell gets a customer to buy the most expensive version of the product they are looking at. For example, booking an economy class ticket and being asked to upgrade is an example of an upsell.

McDonald's were famous for upselling their meals by asking you to supersize for a fraction of the price.
Cross-selling and upselling in ecommerce is a must to boost revenue.
Here's an example from Harry's, a shave kit company who sent an upsell email to their customers to try their new and more expensive shave gel and aftershave moisturizer: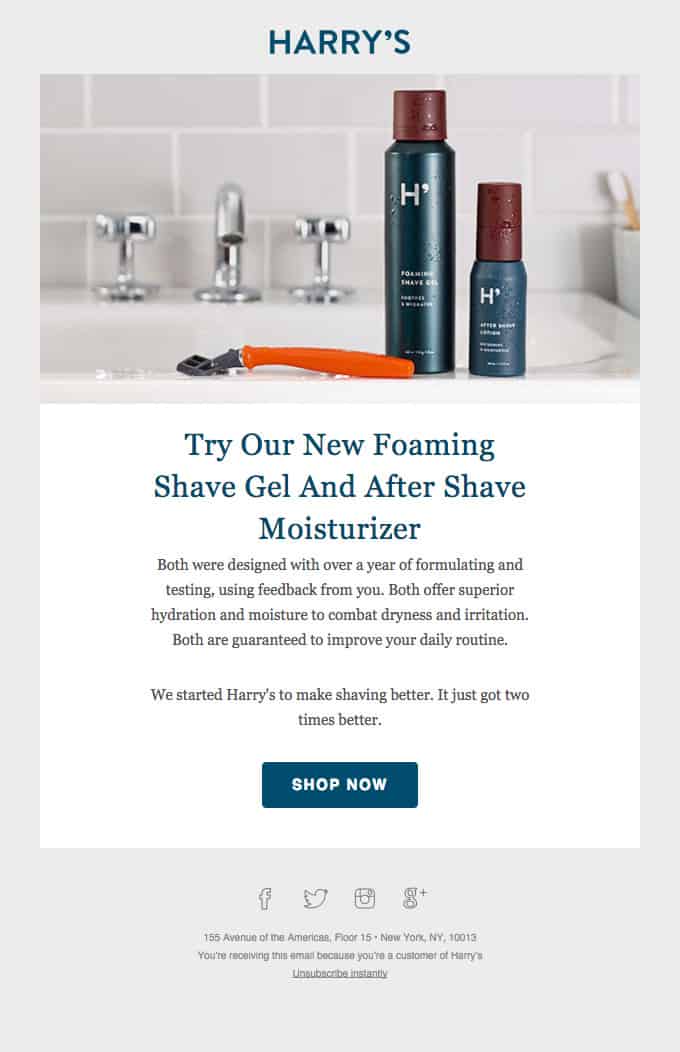 Nordstrom use cross-selling as part of their email marketing strategy. In the email below they have created an email showing various bags for women, shown only to customers who have bought bags before from the site:

Studies have shown that it's much easier to get a customer to try new items than it is to get a new customer to try your store. Don't neglect marketing to existing customers with different products and upgrades.
3. The win-back email
Customers come and go. I'm sure you have ordered from stores in the past that you no longer use for a number of reasons.
The aim of a win-back email is to:

1. reactive old customers, and
2. find out why they stopped ordering in the first place.
Often, customers forget about your business and a simple reminder will reactivate them.
Here's a win-back email sent from Skillshare who let customers know they miss them and provide their next month for only $0.99:
I like to take the approach of giving customers a discount in order for them to re-engage with your business and start ordering again.
Sometimes a discount won't work as they may have had a bad experience with your business or found another business that meets their needs, in which case you should ask them for feedback to help you improve your customer experience.
Your turn
Email marketing has remained the best channel for return on investment for businesses for several years, with no signs of it slowing down.
Every business with a website should have these three email automations set up to send to customers when they move through the funnel. How many do you have?